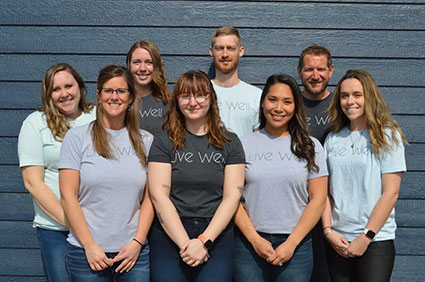 About Well Adjusted Chiropractic
Spring Lake Chiropractor Dr. Mike Weiss is proud to be a third generation chiropractor. He moved to Spring Lake in 2005, and fell in love with the town. When he got the chance to buy this practice in 2008, he jumped at the opportunity.
Originally Weiss Chiropractic, he and his father practiced together for twelve years. They loved helping families in the community improve their health and quality of life. Well Adjusted Chiropractic educates you on the benefits of chiropractic and promotes wellness for everyone.
Our Mission
Our mission is to serve our community, providing excellent chiropractic care, and cultivating natural healing. We're your partners on this health journey; we'll support you every step of the way.
Providing you with quality care over and above what you might expect is what you'll receive at Well Adjusted Chiropractic. You can be confident knowing your care is in the best hands with us.
MEET THE DOCTORS

A Hands-on Approach
Your nervous system connects everything in the body. Our approach is holistic—
we don't merely fix one thing or treat individual symptoms. We take the time to find the root of your pain and correct it. You're not just a number to us; we're invested in your family's health and well-being.
Results You Can See
Dr. Mike treats a variety of issues, but relieving headaches and migraines is one of his favorites. Frequent headaches can be debilitating. Daily activities become difficult to perform, and normal interactions are impossible. They steal all the joy from his patients' lives.
A chiropractic adjustment can change all that. Most patients get relief quickly, allowing them to return to normal. Having such a tremendous impact on someone's life by relieving their chronic pain is a fantastic feeling.
Free Consultation for New Patients
Tired of pain that won't quit? Our free consultation will show how you can get the results you want and deserve. Contact us to speak with one of our knowledgeable staff members and get started.
---
About Well Adjusted Chiropractic | (616) 846-2330